The city of Newark, Division of Fire hired two new personnel today.  Both were hired thanks to a Staffing for Adequate Fire & Emergency Response Grant.  Here are the details of each new employee:
Justin Feil, age 27, is a certified paramedic and firefighter who resides in Pataskala, OH.  He proudly received his certifications from the Ohio Fire Academy and the Columbus State EMS/Fire Science Program.  Justin started his career as a volunteer firefighter for Monroe Township Fire Department.  He has also served as a firefighter/paramedic for Madison Township and West Licking Joint Fire District as well as paramedic for First Advanced EMS.    Outside of his professional career, Justin spends his free time with his family and enjoying the outdoors.  Justin is excited to serve and protect the city of Newark and its community.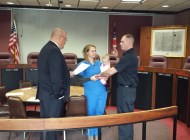 Colton L.L. Pennell, age 26, has been in Fire and EMS for 4 years. He received his 240 fire certification from Hocking College in 2010. He later received his EMT- B from C-TEC in 2013 and his Paramedic Certification in 2016 from Ohio University Lancaster. He currently resides in Newton Township with his lovely wife Adrian and his daughter Lyla.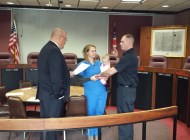 A group picture from left to right:
Assistant Chief Decker, Safety Director Baum, Mayor Hall, PFFP Feil, PFFP Pennell, Fire Chief Patrick Connor