The city of Newark, Division of Fire hired four new personnel today.  Three of the 4 were hired thanks to a SAFER Grant.  Here are the details of each new employee:

Micah Collett, born and raised in Colorado, moved to Ohio in 2010. He attended Columbus State and Grant Medical Center. He and his wife Stephanie have a daughter, Elliana.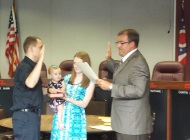 Andy Neuens, a native of Westerville, Ohio, attended the University of Toledo and graduated from Columbus State in 2014. Andy will be married in October and has a daughter, Quinn.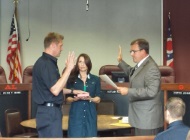 Conrad Joseph, a 2007 graduate of Big Walnut High School, attended Stark State College and Grant EMS Education in Columbus. Conrad is currently enrolled in the Fire/EMS Science program at Columbus State. He and fiancée Tracy are parents to a puppy named Captain.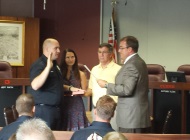 Ashley Ebel, a Newark resident, is a 2011 graduate of Granville High School. She is a 2014 graduate of Hocking College. She is a certified Fire Inspector.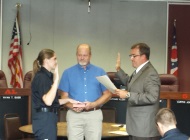 All four are certified in FFII and EMT Paramedic.